Miss Frizzle and her speech class. Check out her book. It's on Climate Change!
Attention Northside parents: Due to the forecast, Northside will not be having our costume parade tomorrow. Students can still bring their costumes and will still be celebrating Halloween in their classrooms, but there will be no parade.

With the cold weather approaching please make sure your student dresses warm. We do have some items at MJHS if anyone is in need. We have lots of gloves and hats. We have some smaller coats, snowpants and boots. Please stop by and take what you need.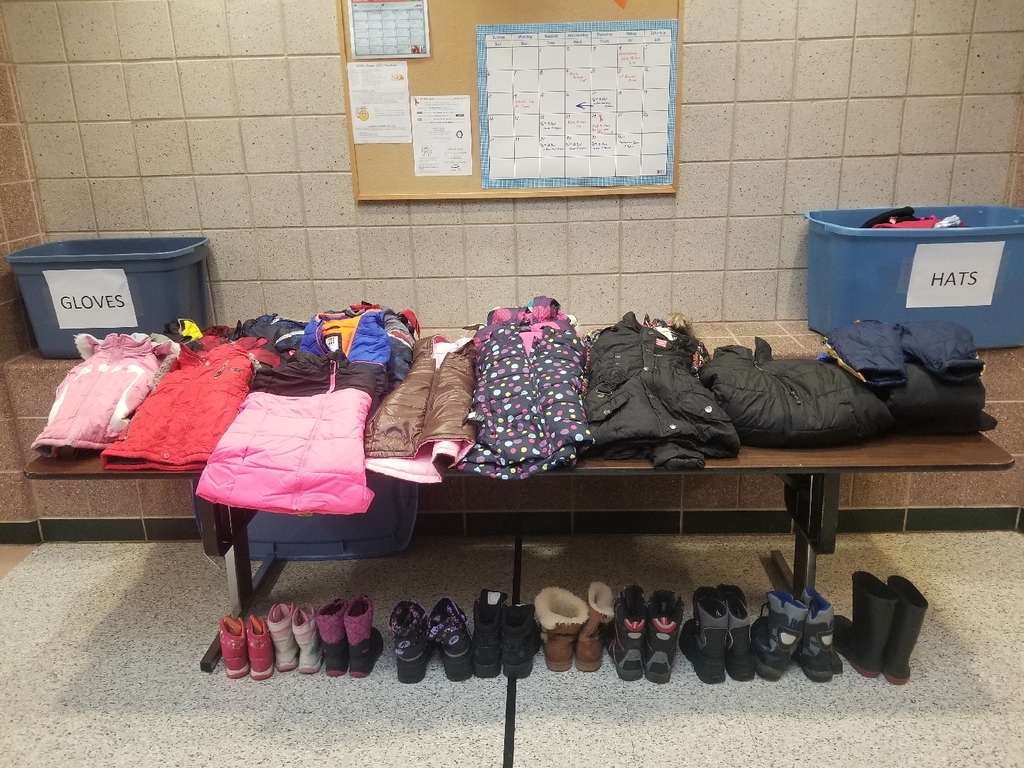 Reminder- 5th-8th grade boys basketball pictures will be today after school. Please make sure you have your order forms turned in before they take pictures. All athletes will have their picture taken. You can order pictures after today but there will be a $5 late fee.

Just as a reminder Newman High School does not have a Girls Swim team this year. Therefore there is no meet tonight.

The video feed of Saturdays playoff football game will be streamed online at NFHSnetwork.com. Search for Morrison High School. You will need to create an account and purchase a subscription. The announcing will be done by MHS students. The broadcast will go live at 3:50.

Thank you to everyone for sharing and commenting on the Caring Closet post yesterday! If you are interested in donating, items can be dropped off at the high school during normal office hours. If you have a large donation that you would like picked up please call the school to schedule. Here is a picture of the donation list. Some things we are currently in need of are boys', girls' and men's jeans or athletic pants all sizes of school-age students. We will continue to post with any needed items and/or updates regarding new drop-off spots for items. Thank you again for supporting MCUSD 6 students!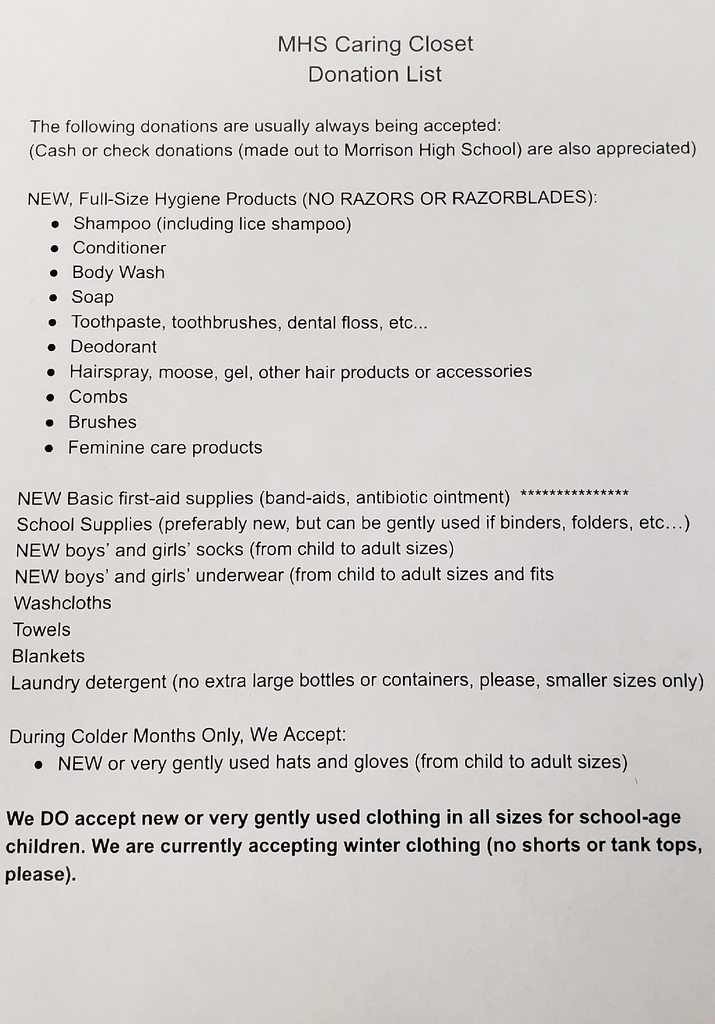 The MCUSD 6 Caring Closet is now open! The team is in awe of the generosity of the Morrison community. Thank you to everyone for your continued monetary and item donations. We are so excited for this new opportunity to help our students be successful.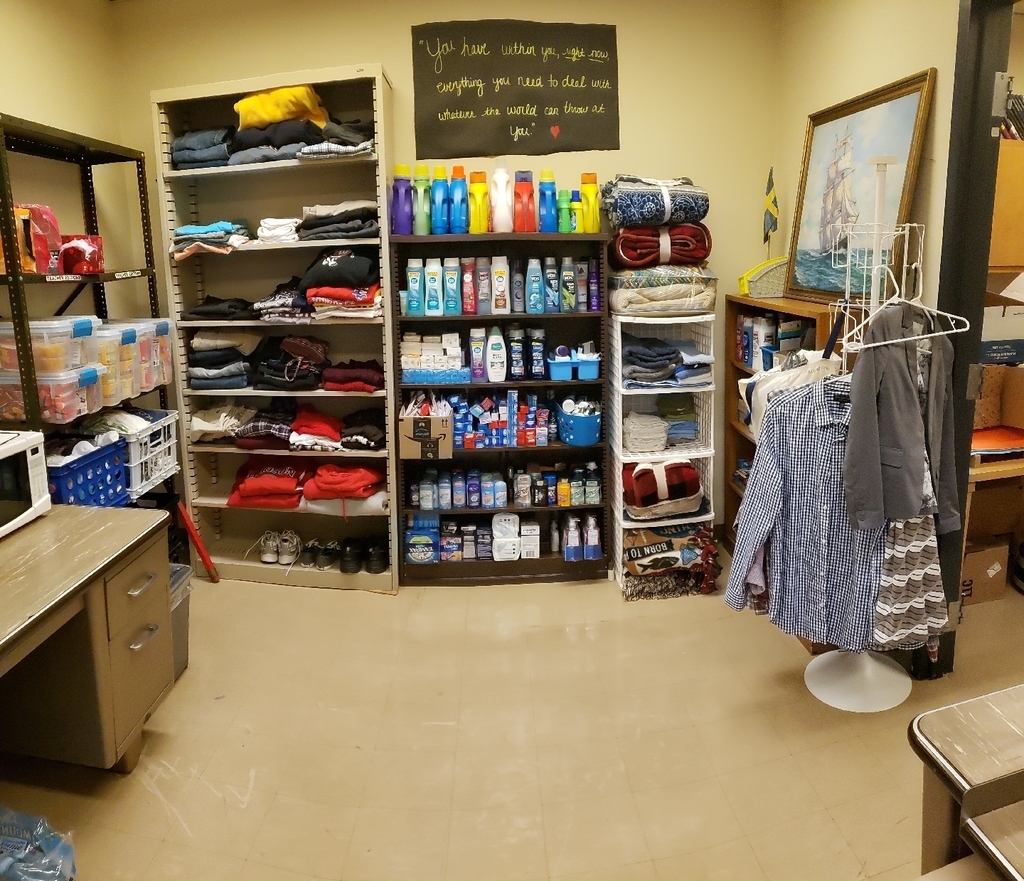 The first round IHSA playoff game between Morrison & Cambridge Ridgewood Coop will be held on Saturday November 2nd. Kickoff in Morrison will be at 4:00 pm. Gates will open at 3:00 pm with tickets sales starting at 2:30 pm.

As we are preparing for our 1st potential snowfall of the school year please take a moment to review the attached letter.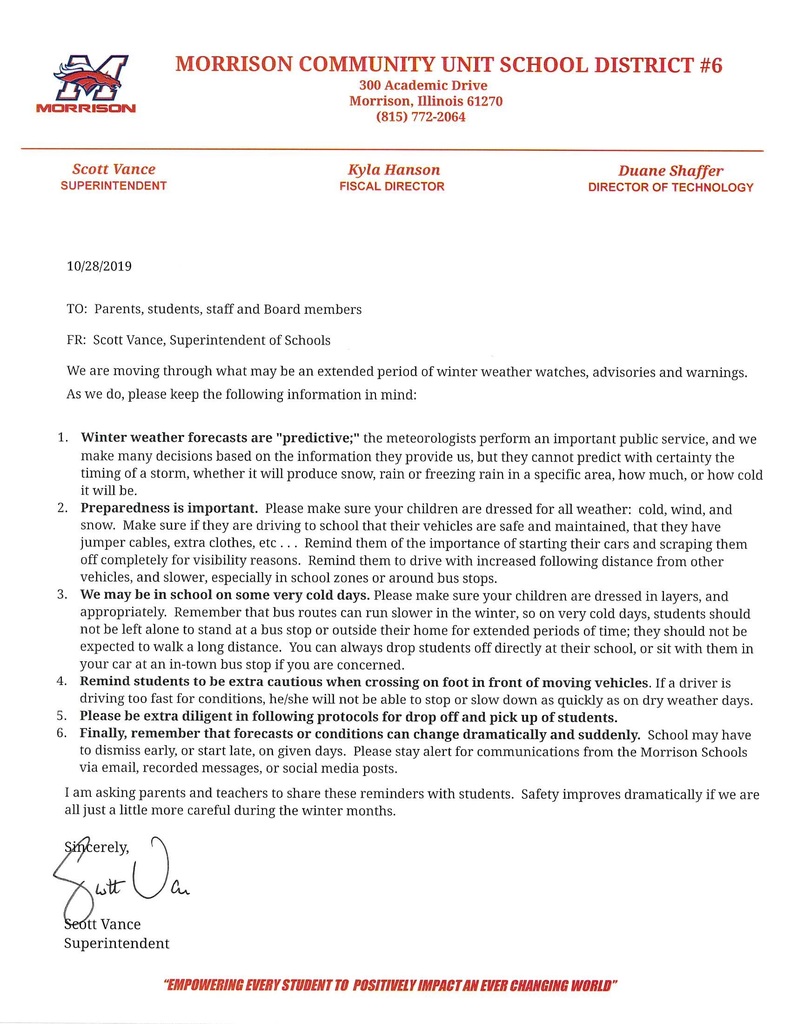 Congratulations to Koby Brackemeyer for qualifying for next Saturday's Oregon Cross Country sectional.

The Morrison Mustangs will play Cambridge-Ridgewood Co-op in the first round of the IHSA football playoffs. At this time the official game time has not been set. Once the Date and Time have been finalized it will posted on the Morrison Website. Go Stangs!!

Morrison will play Cambridge in the first round of the IHSA Class 1A playoffs. Time and day TBD.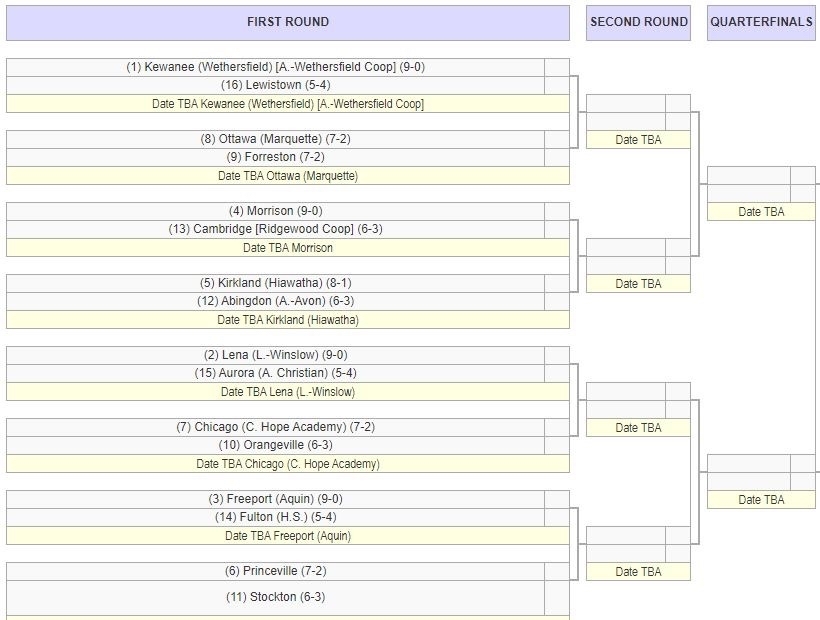 Senior night at MHS. Go Stangs!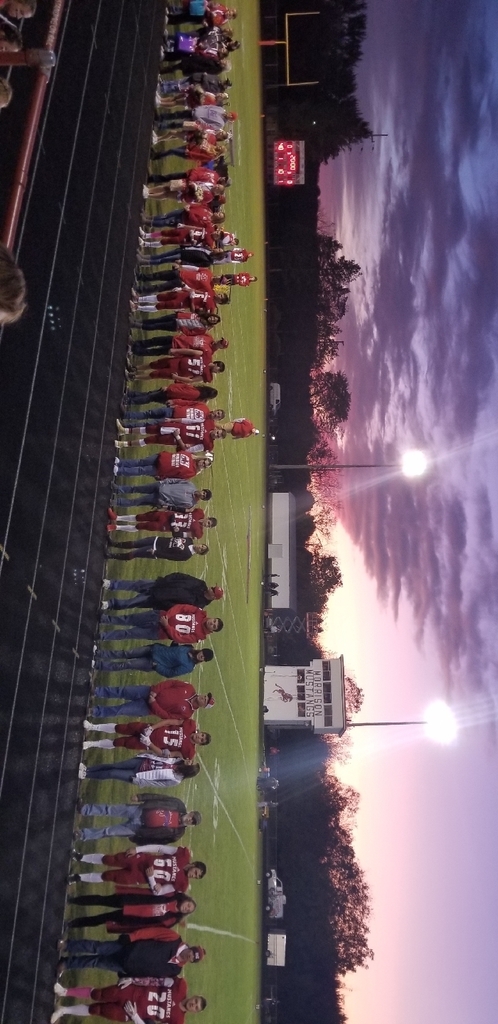 Reminder: Southside will be conducting dress up days next week for Red Ribbon Week. Monday Proud to be drug free WEAR RED, Tuesday Team up against Drugs WEAR YOUR FAVORITE TEAM APPAREL, Wednesday Too Bright for Drugs WEAR NEON COLORS OR SUNGLASSES, Thursday Say "Boo!" To Drugs WEAR A HALLOWEEN SHIRT OR ORANGE AND BLACK, and Friday Wake Up Drug Free WEAR PAJAMAS

MHS Girls Basketball webstore will be opening soon!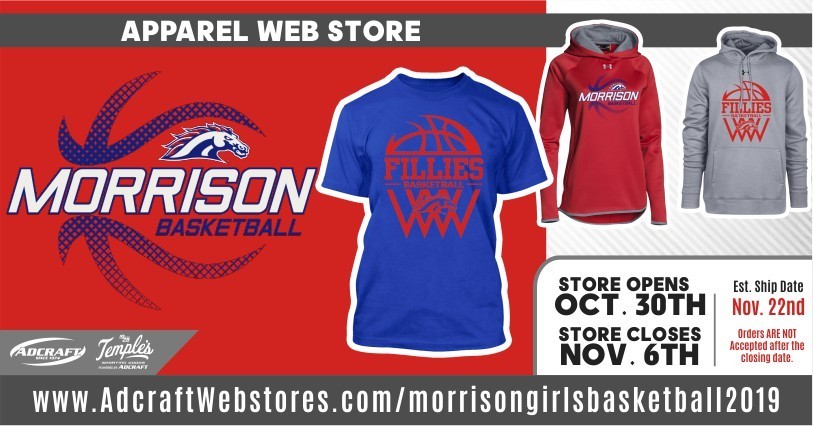 What is Red Ribbon Week and why are we participating? National Family Partnership, or NFP, was established as a grassroots, nonprofit organization in 1980 by a handful of concerned and determined parents who were convinced they should begin to play a leadership role in drug prevention. Their mission is to lead and support our nation's families and communities in nurturing the full potential of healthy, drug free youth. NFP sponsors the National Red Ribbon Campaign that we take part in. Red ribbons are a symbol of our commitment to raise awareness of the destruction caused by drugs in America. Here are the dress up days for Red Ribbon Week. Thursday Oct. 24th Grade level color day 6th Orange, 7th Green , 8th Blue Staff/Teachers Black and White Friday Oct. 25th Red, White and Blue ....Morrison PRIDE! Monday Oct. 28th Tie Dye day Tuesday Oct. 29th Hawaiian Day/ Luau Day Wednesday Oct. 30th Favorite Sports Team Day Thursday is Halloween - Dress up and "Scare Drugs Away"

Yesterday State Representative Tony McCombie stopped by to present six Southside Students with certificates for completing her "Reading Buzz" summer reading program. The students pictured with Rep. McCombie are: Kinlee Prins, Evelia Milnes, Gunner Nelson, Gianna Vance, Sophie Damhoff, and Ella Milnes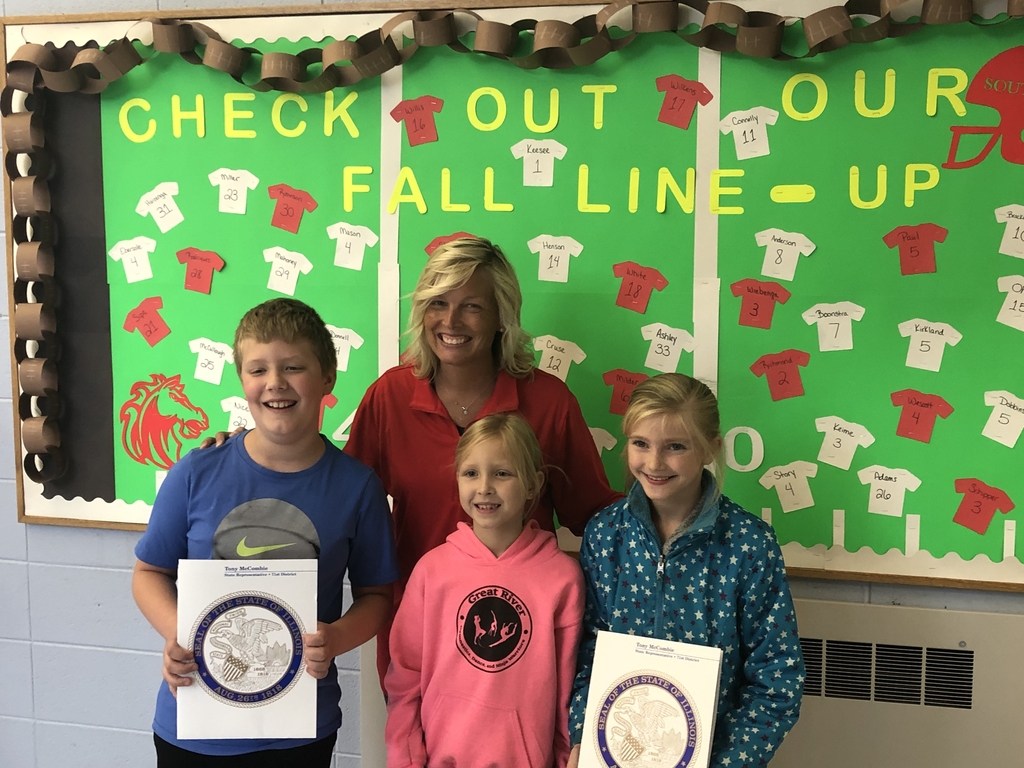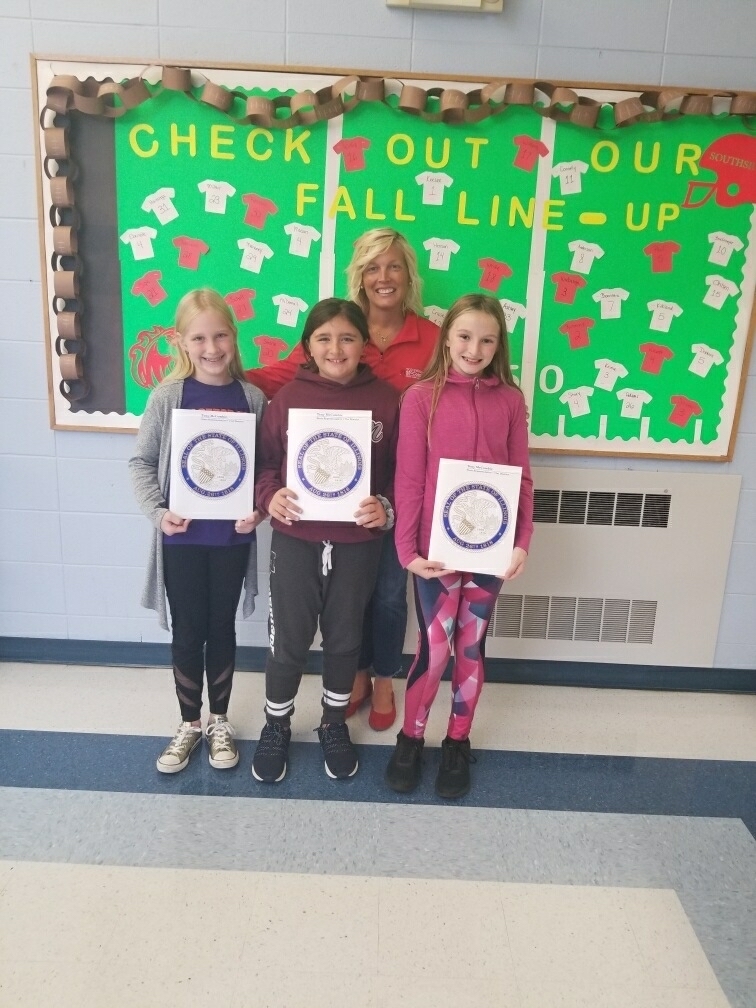 Rep. Tony McCombie stopped by Northside today to present four students with certificates for completing her "Reading BUZZ" summer reading program. Pictured left to right with Rep. McCombie are: Kaleb Damhoff, Jackson Vance, Keagan Bruins, and Gauge Nelson. Great job!
Attention Northside and Southside parents: Red Wheel fundraisers are due tomorrow. If you have not done so, please send them with your student tomorrow. Thank you!